What Causes Cyber Security Projects to Fail?
Security leaders are responsible for juggling countless areas when it comes to ensuring the success of cyber security projects. There are usually a few common blunders that can cause these security projects to fail though. Typically, security projects bomb because of a breakdown across critical areas within the organization or planning the project itself.
However, a few failures within your security projects shouldn't hold you back from implementing a world-class security program.
"Success is going from failure to failure without losing your enthusiasm." – Winston Churchill – Click to Tweet
Learn more about the five common areas where cyber security projects tend to flop in our latest blog.
Lack of Awareness & Adoption
A very common mistake in the initial preparation of a security initiative is when companies forget to sell a new cyber security idea internally and fail to communicate the expectations of a security initiative. If the expectations are not aligned with the overall business objectives, you should anticipate mistakes and failures to arise.
Unrealistic or misaligned goals can also contribute to a lack of awareness and a general adoption of the security initiative. Without the proper goals set, a cyber security project will not achieve its expected benefits and outcomes.
Lastly, for your organization to capture awareness and adoption for a security project you will need to obtain buy-in. To do so, a security leader has to make sure that the business and technical aspects of the project are explained to leadership and the pertinent staff.
You need to have a solid business case for any cyber security you want to undertake – otherwise, why is it even on the radar. — Click to Tweet
Organization & Planning
After you have obtained Executive buy-in, another common pitfall for a failed cyber security project is the organization and planning phase. Here it becomes critical for information security leaders to communicate their vision for the cyber security project to the project managers that will implement the leader's plan. In addition, an uncontrolled project scope set forth by the project managers can send your cyber security project off its tracks.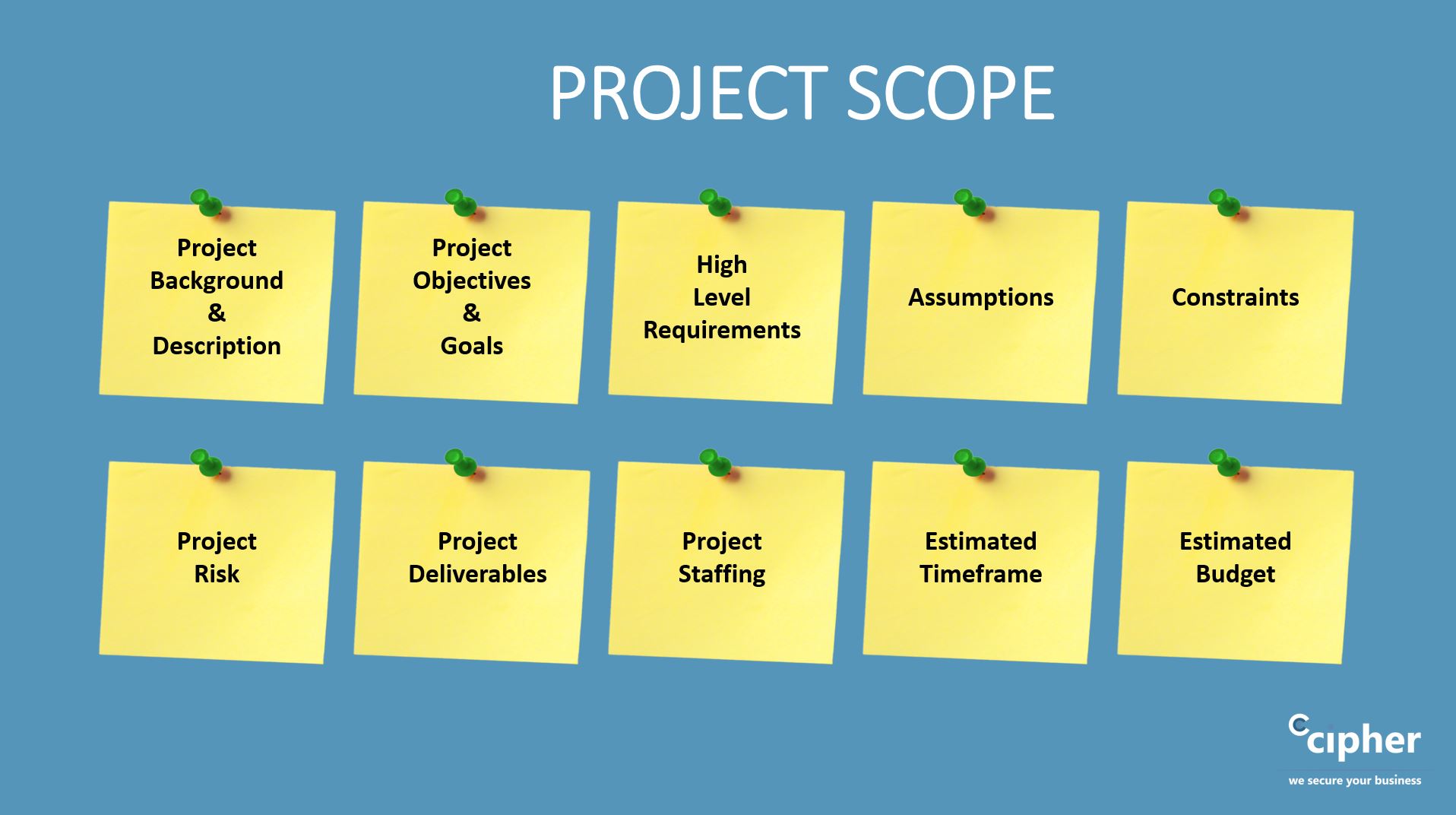 As an information security leader, you will need to review the key deliverables and project milestones associated with any major cyber security project regularly. Your project scope must be controlled and you have to ensure that priorities are maintained throughout the entire implementation.
Lack of Financial Resources
If you were unable to secure a budget for the cyber security project before it kicked off, this is a sure-fire way for failure. Another scenario when the security project can fail is when there's not enough time and money to continue to finish its implementation.
Lastly, if you're unable to establish a reasonable Return on Security Investment with your Leadership Team during the business case phase you may run into trouble. Or, if you exceed your already established budget, your project could be shut down quickly by your CFO.
Consider these tips for building and calculating a simple Return on Security Investment for your cyber security projects.
Poorly Allocated Human Capital or Leadership
A cyber security project can turn South when the initiative lacked enough leadership and the security leader cannot drive the cyber security project through to completion.
Another area to be aware of is if your security team lacks knowledge or are generally untrained within the scope of your project. You could be setting your team up for failure because of a knowledge gap within the organization. Training and experience are critical to a successful cyber security project implementation.
Another common theme for failed security projects occurs when employees feel as though their jobs are in jeopardy due to the implementation of a new security solution or tool. A security leader must dispel these fears and review any contingency plans or new positions for employees that have these feelings.
Lastly, you could experience project failure when there is a team conflict over how to implement the new cyber security solution. It's important to communicate responsibilities and let your project management team handle the full implementation plan and step in when needed to handle disputes.
Inadequate Technology
Finally, if your cyber security project contains any inadequate or inaccessible systems you could risk failure. Make sure you perform a thorough analysis and questionnaire when selecting any security technology solution. Here are a few quick starter questions:
How long have you been in business?
What guarantee/warranty do you provide on your product?
Can you supply me with 3 references?
Do you offer onboarding training or training services for users?
How does your product differentiate from competition? (No BS points)
What are the helpful features that are built into your products?
What platforms can your product run on? Does your product support mobile devices?
Which operating systems and major versions are supported?
How does your product detect malware threats? (Zero-day and known threats)
How scalable is your product?
Does your product work in physical and virtual environments?
What's your SLA agreement? What's the actual results vs the SLA for the last 12 months?
How frequently is your product updated?
Remember, security projects can often fail due to a lack of training and inexperience. So, make sure your new security solution provider provides onboarding and ongoing training for your employees. This will be indispensable in optimizing and maximizing your security solutions down the road.
Implementing a successful cyber security project requires an orchestration of resources across the organization, the leadership team, budgets, and your staff.
If you avoid the pitfalls mentioned above, you will be much better positioned to see your security initiatives succeed. Here are a few tips to follow that we put together on how to ensure your cyber security projects succeed from our recent blog.
Did you enjoy this blog article? Comment below with your feedback.