The 5 Biggest Challenges in Global Data Privacy and Protection
Data privacy and protection is not an easy task. Security professionals must classify data by risk and ensure that the data (both sensitive and personally identifiable information) is protected with appropriate security technologies and strategies.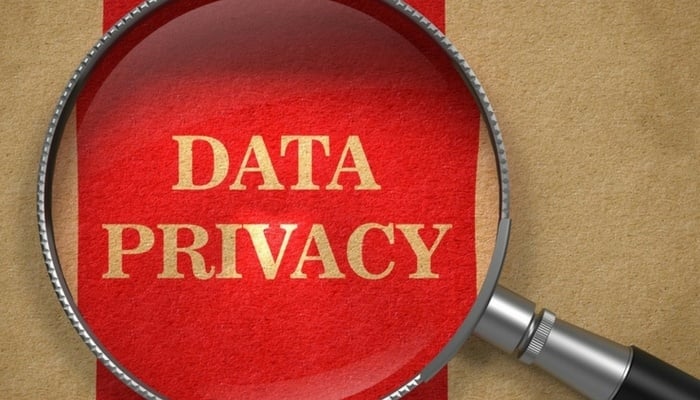 Data has powered our biggest and most rewarding advancements and technologies over the last decade. But, there's a real challenge with protecting consumer data privacy and preferences today. To understand the impact and importance of global data privacy, you should first understand the biggest challenges your organization might face in data privacy and protection.
The Growth of Data is Exponential
Data is growing faster than ever. More than 1.7 megabytes of new data is created every second. Organizations must keep up with protecting not only their customer's personal information but also sensitive personal information. Breach Level Index, a public tracking site for data breaches, reports nearly 9,198,580,293 data records are now lost or stolen since 2013.
Data has grown exponentially over the last decade, yet poor security practices continue to put organizations at risk of a data breach. Personal Identifiable Information (PII) is one of the biggest concerns in data privacy. Because of the veracity and volume of data in our technology-driven world, it becomes overwhelming to handle millions and possibly even billions of data records.
Cost of Maintaining Data Privacy
A data breach can cost organizations millions of dollars in lost revenue. In fact, the Ponemon Institute found that the total average cost of a breach cost in 2017 was $3.62 million. What's more is that there is a 30% chance for an organization to experience a data breach over the next two years. If an organization is breached, they face intense regulatory penalties from an array of entities. For example, companies operating in or with customer data in the European Union that experience a sizable breach from a lack of security controls could face up to 4% of Adjusted Gross Revenue or €20 Million (whichever is greater).
Organizations must make investments in a number of key security technologies such as data archiving, backup, and redundant infrastructure to ensure their data is safeguarded and can be recovered and restored.
The Number of Open Vulnerabilities
According to CVE, a definitive source for information security vulnerabilities reported that nearly 15,000 disclosed vulnerabilities surfaced in 2017. This is more than 56% more than 2016 total vulnerabilities.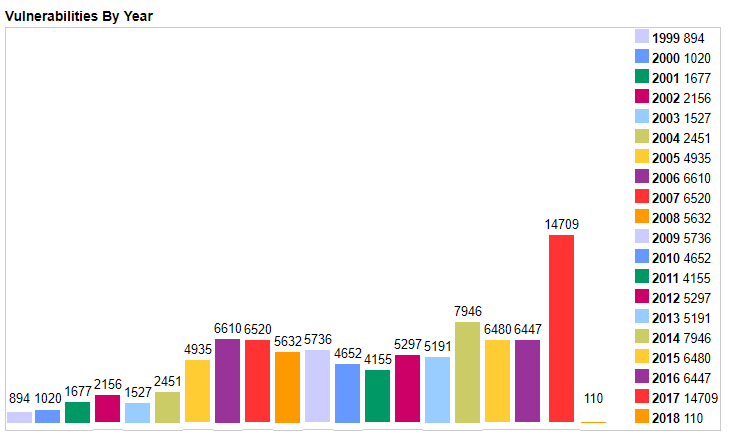 The rapid increase in vulnerabilities has led to a record-breaking number of public data breaches as well. Dark Reading found more than 1,254 data breaches in the first half of 2017.
For an IT security administrator, it can become overwhelming to manage literally thousands of patches released each year. It becomes critical to have an established patch management process or template in place as well as understand the realities of patch management best practices.
An Advanced Technology Landscape – IoT and Mobile
IoT is certainly a major area of concern for all security professionals. A recent study found that 90% of information security professionals are more concerned about IoT than network security.
IoT vendors don't proactively release security vulnerability patches for connected devices, yet the number of devices sold grows at an unimaginable pace.
With IoT, security professionals need to re-examine BYOD policies, complete an IoT readiness plan, and scan the network to discover all IoT devices connected to your network. Monitoring your network with IDS/IPS, SIEM tools, and any other advanced security analytics becomes essential in finding malicious activity in your network, applications, and data.
Human Error Creates a Level of Complexity
Common everyday human errors can significantly affect your data privacy and protection. Many security analysts claim that human error is the biggest challenge in data privacy and security. Ill-informed and unaware employees can use weak passwords, mistakenly delete data, fall for phishing scams, have privileged account access, and browse websites not under acceptable use. It's up to your team of security experts to create a security awareness and training program that helps empower your employees and reduce the risk. Data loss prevention tools can also help you prevent end users from leaking sensitive data, either maliciously or by mistake.
As you can see, the statistics show that protecting data is no easy feat. Across the entire information security lifecycle, you can experience pitfalls and hurdles. With the tips mentioned above, you can improve your security posture or security maturity and monitor the flow of data through your organization.
Did you enjoy this blog article? Comment below with your feedback.